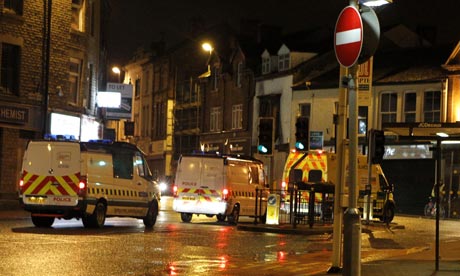 The strip in Rochdale, a mass of flashing blue lights, a Kebab shop and a couple of pedestrian crossing lights winking in the mist.
Rochdale a Lancashire town of about 100,000 souls is one of the poorest towns in the UK, its main rivals for this accolade are all within in about an hours drive! Poor town in a poor area. The only good news is that Rochdale is set to become the Las Vegas of the North West.
The reason for this optimism is that the town has been gearing up and now has staggering total of 69 gambling terminals at 19 betting shops. With over £1million is staked on each "fixed odds betting machine"this amounts to £510 for every adult betting in the town, surprising when the town is home to the Falinge estate, recently named as the UK's poorest area for the fifth year running — with 72 per cent unemployment.
To be fair this state of affairs says more about the impoverished state of our high streets (the gambling dens have moved in because of low rents) and dire local planning than the good people of Rochdale. There needs to be a limit on the number of betting shops per square mile - about 1 would do!
Read more:
http://www.thesun.co.uk/sol/homepage/news/4759995/Poorest-towns-72million-on-gambling-machines.html#ixzz2J6Kzkx86